Puppies
"Happiness is a warm puppy." —Charles M. Schulz
If you are interested in purchasing a Star-Vue puppy, you will need to make arrangements to either fly the puppy to you or drive here. We have not shipped a puppy sight un-seen for over 20 years. We do have a Sherpa bag that fits under the seat in a cabin that we loan out for your return flight.
Available Puppies
Litter whelped March 13th
Sire: Ch Star-Vue's Brown Is The New Blue
Dam: Ch Star-Vue's Star-Vue's Sugarland
5 males, 4 females blue roan.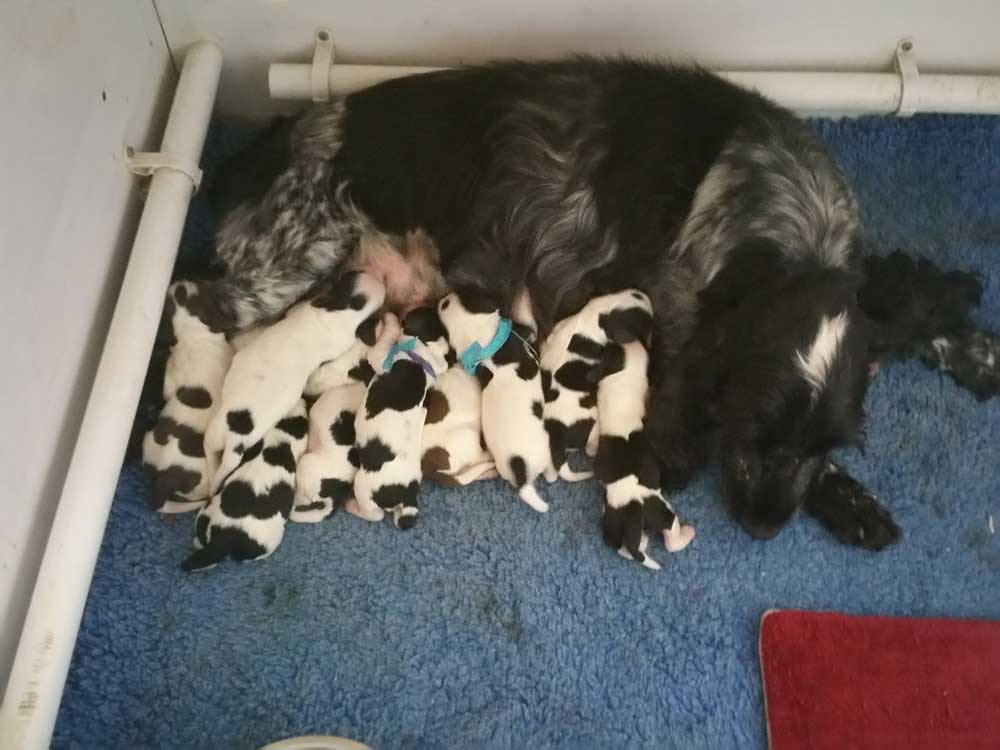 The photos of the puppies below are typical of Star-vue Puppies.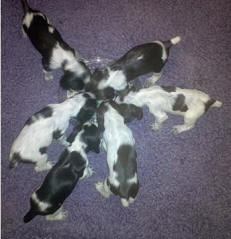 Sire: Star-Vue's Dancin' In The Moonlight - "Tango"
Dam: Star-Vue 'N Jarde Choctail Parti - "Luci"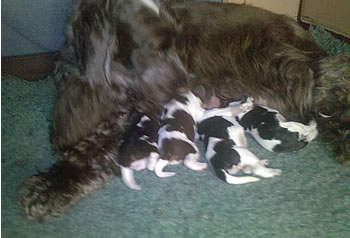 Sire: Ch. Newstead Carnaby Acclaim
Dam: Ch. Jarde's Chocolate Mist
Conscientious Breeders
In my opinion, the true distinction between conscientious hobby breeders and puppy mills is the motivation for breeding. Conscientious breeders are breeding to a breed standard to produce desired qualities (structure, temperament, health, breed type, functionality to do the job for which the breed was intended). Often conscientious breeders are investing tremendous amounts of time, money, and effort in their dogs. Costs include earning titles (in the conformation, obedience, field or other events) where their dog's structure and abilities are evaluated by judges; health screening tests; routine veterinary care; stud fees and related breeding costs. Conscientious breeders may break even on a litter or lose money on a litter. The main objective and reward for conscientious breeders is to have their choice of puppies that possess the attributes one hoped to get from the breeding.
"How much is that doggie in the window?" Have you been contemplating purchasing your puppy from a local pet store? Before you do, please read the following article. Educate yourself on the way in which pet stores work. Click on the image of the puppy to read the article about pet stores.